Historic Bellevue button factory to become 'hub' for riverfront activity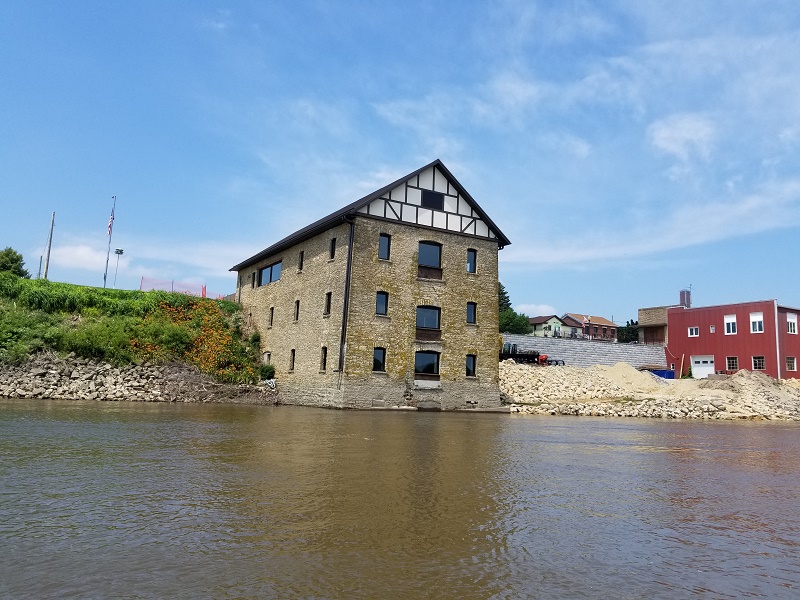 BELLEVUE, Iowa — When Allen Ernst purchased the old button factory in Bellevue, the basement was submerged in the Mississippi River and the top floor was sinking in the middle under its own weight.
It was in far-from-ideal condition. But Ernst only saw potential.
"It will be a hub for the town's activity," Ernst said. "This will be the heart and soul of downtown."
Work is underway to renovate the entirety of the Button Building, 305 S. Riverview St. The structure will be converted into office space, a coffee shop and a center for local educational programs.
The $1.2 million project has seen the building's grade raised by 16 feet and the removal of thousands of pounds of concrete. When work is finished, Ernst is certain the building will be an impressive site.
"There are only two buildings in town that physically jut out into the river," Ernst said. "It has views that are just unbelievable."
Constructed in 1865, the building has taken on a variety of roles over the years, including a grain storage facility, a button factory and a laundromat.
Since the building precedes the construction of Bellevue's lock and dam, water levels were significantly lower at the time of construction, Ernst said. When the dam was put in place, rising river levels resulted in the building partially stretching out into the river.
About 10 years ago, Ernst purchased the building without any idea of what it would become. At the time, nothing had been done with the structure in more than 10 years, but Ernst believed the building's proximity to the river made it valuable.
Ernst received a $100,000 State of Iowa catalyst grant in early 2018, and restoration work started that April. Full Story
BY JOHN KRUSE john.kruse@thmedia.com
Reposted with permission from TH Media